Review Activity Rate Activity Bookmark Activity REQUEST AVAILABILITY/BOOK ACTIVITY
Photos: Click on photo(s) to enlarge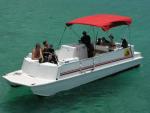 DESCRIPTION
With only a 6 inch draft and a huge 4x8ft glass bottom, no other glass bottom boat in Bermuda gives you such a thrillingly intimate reef viewing experience. Our guests enjoy the longest glass bottom reef viewing in Bermuda (twice the time of other tours!) over shallower and more vibrant reef, without jostling with other passengers to get a glimpse through the glass. Information is imparted in a refreshingly ad lib style by Captain Tony. Best of all, you don't have to share your experience with a crowd of strangers. We rarely carry more than 12 passengers in order to keep things as personalized and relaxed as possible.
Aquatic Bermuda - Bermuda Activities
Type: Tours
GENERAL RESTRICTIONS
Review Activity Rate Activity Bookmark Activity REQUEST AVAILABILITY/BOOK ACTIVITY
Disclaimer: Information about specific listings is provided by third parties and is subject to change at any time.