Review Activity Rate Activity Bookmark Activity REQUEST AVAILABILITY/BOOK ACTIVITY
Photos: Click on photo(s) to enlarge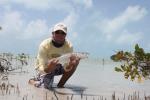 DESCRIPTION
The best Saltwater Fly Fishing in the Caribbean. Our 28' Bertram will rendezvous with you at your yacht or land base. 18' custom poling boats, guide, license, equipment food and beverage included. 1/2, 3/4 and full days available.
Caribbean Fly Fishing - Tortola Activities
Type: Tours
GENERAL RESTRICTIONS
Review Activity Rate Activity Bookmark Activity REQUEST AVAILABILITY/BOOK ACTIVITY
Disclaimer: Information about specific listings is provided by third parties and is subject to change at any time.