Review Activity Rate Activity Bookmark Activity REQUEST AVAILABILITY/BOOK ACTIVITY
Photos: Click on photo(s) to enlarge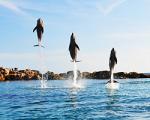 DESCRIPTION
Tropical coral reefs are the most diverse marine ecosystems on earth as well as the most sensitive ecosystems on earth. They give shelter to thousands of animal species and cultivate an amazing amount of productivity and biodiversity. Many countries and people are dependent on fisheries, tourism, and the coastal protection provided by healthy coral reefs.
Curacao Sea Aquarium - Curacao Activities
Type: Tours
GENERAL RESTRICTIONS
Review Activity Rate Activity Bookmark Activity REQUEST AVAILABILITY/BOOK ACTIVITY
Disclaimer: Information about specific listings is provided by third parties and is subject to change at any time.