Review Activity Rate Activity Bookmark Activity REQUEST AVAILABILITY/BOOK ACTIVITY
Photos: Click on photo(s) to enlarge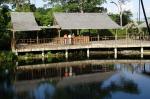 DESCRIPTION
A tour of the Green Grotto Caves will take you on an out of this world journey into the heart of Jamaica's "innerworld". In just under an hour your guide will take you through a maze of sturdy, majestic stalactites and stalagmites, and other exquisite dripstone formations. Continue through the interconnected passageways and chambers, to the cave's innermost cavern - the grotto - with water as translucent as nothing you've seen before. A complimentary drink is offered after the tour!
Green Grotto Caves - Ocho Rios Activities
Type: Tours
GENERAL RESTRICTIONS
Review Activity Rate Activity Bookmark Activity REQUEST AVAILABILITY/BOOK ACTIVITY
Disclaimer: Information about specific listings is provided by third parties and is subject to change at any time.