Previous
Review Activity Rate Activity Bookmark Activity REQUEST AVAILABILITY/BOOK ACTIVITY
Photos: Click on photo(s) to enlarge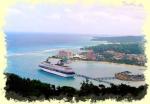 DESCRIPTION
On this scenic All Terrain Vehicle (ATV) tour, you'll ride with "Bushmasters", on mountain trails through the hills and dense forests. Learn about Jamaican wildflowers, bamboo, banana and "paw paw" and other wild flora, as you make your way up to the highest peak in Ocho Rios, Murphy Hill.

From this vantage point you will see the breathtaking, panoramic view of the entire coastline.
Wilderness ATV Tours - Ocho Rios Activities
Type: Tours
GENERAL RESTRICTIONS
Review Activity Rate Activity Bookmark Activity REQUEST AVAILABILITY/BOOK ACTIVITY
Disclaimer: Information about specific listings is provided by third parties and is subject to change at any time.