Review Activity Rate Activity Bookmark Activity REQUEST AVAILABILITY/BOOK ACTIVITY
Photos: Click on photo(s) to enlarge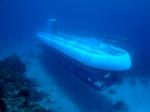 DESCRIPTION
Our celebrated coastal retreat is located 300 miles from Miami, Florida, in the heart of the Mayan Riviera. Only 12 miles south of the Yucatan, Cozumel's clear blue coastal waters with their coral reefs and abundant sea life are world-renowned for diving.

Discover why Cozumel is one of the top five dive destinations in the world. Your submarine dive adventure begins on board the Ana, a ferry vessel that takes you on a 12-minute cruise along Cozumel?s west coast. Upon your arrival at the Chankanaab dive site, you are transferred to the Atlantis Submarine where you will make an underwater journey to Chankanaab, an environmentally-protected marine park. As you cruise the ocean floor, you will view amazing formations including 30-foot coral heads and a great variety of marine animals and tropical fish including parrotfish, grunts and groupers.
Atlantis Submarines Cozumel - Cozumel Activities
Type: Tours
GENERAL RESTRICTIONS
Review Activity Rate Activity Bookmark Activity REQUEST AVAILABILITY/BOOK ACTIVITY
Disclaimer: Information about specific listings is provided by third parties and is subject to change at any time.