Next

Review Activity Rate Activity Bookmark Activity REQUEST AVAILABILITY/BOOK ACTIVITY
Photos: Click on photo(s) to enlarge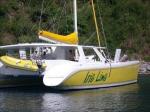 DESCRIPTION
Experience a magical sail aboard one of our catamarans. A day trip or private charter aboard Blue Water Safaris will take you along our scenic coastline into a secluded cove where you'll marvel at our rich sea life, as you snorkel the clear blue turquoise water of St. Kitts.
Blue Water Safaris Ltd - St Kitts Activities
Type: Island Excursions
GENERAL RESTRICTIONS
Review Activity Rate Activity Bookmark Activity REQUEST AVAILABILITY/BOOK ACTIVITY
Disclaimer: Information about specific listings is provided by third parties and is subject to change at any time.