Review Activity Rate Activity Bookmark Activity REQUEST AVAILABILITY/BOOK ACTIVITY
Photos: Click on photo(s) to enlarge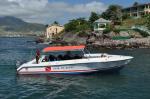 DESCRIPTION
At Dive St. Kitts we guarantee that the serene beauty and warm, clear waters of our untouched dive sites will overwhelm you. That the peace and tranquility of our islands will refresh you, and that the expertise, warmth and hospitality of our professional staff will put your mind at ease. The visibility and weather are spectacular, and since it is only a short boat ride to most scuba dive sites, multiple diving days will be a continuous exhilaration.
Dive St. Kitts - St Kitts Activities
Type: Diving & Snorkelling
GENERAL RESTRICTIONS
Review Activity Rate Activity Bookmark Activity REQUEST AVAILABILITY/BOOK ACTIVITY
Disclaimer: Information about specific listings is provided by third parties and is subject to change at any time.