Review Activity Rate Activity Bookmark Activity REQUEST AVAILABILITY/BOOK ACTIVITY
Photos: Click on photo(s) to enlarge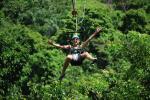 DESCRIPTION
Come out to Wingfield Estate for Sky Safari's most exciting eco adventure! Our new cable line System is an exhilarating cable line expedition through St. Kitts Rainforest. Ride in a comfortable harness reaching speeds of up to 80km an hour. The system offers 5 cable lines, with the longest ride being over 1350 feet long, 250 feet above the ground. Our guides will share their wealth of interpretive information and local Wingfield Estate knowledge about the ecosystem you will be flying over, giving you a unique Wingfield Estate experience.
Sky Safari Tours - St Kitts Activities
Type: Eco-Tours & Adventures
GENERAL RESTRICTIONS
Review Activity Rate Activity Bookmark Activity REQUEST AVAILABILITY/BOOK ACTIVITY
Disclaimer: Information about specific listings is provided by third parties and is subject to change at any time.