St Kitts Scenic Railway Tour (Visit this link)
Review Activity Rate Activity Bookmark Activity REQUEST AVAILABILITY/BOOK ACTIVITY
Photos: Click on photo(s) to enlarge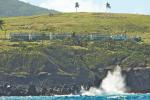 DESCRIPTION
The St. Kitts Scenic Railway takes passengers on a 3-hour tour that makes a 30-mile circle around the beautiful Eastern Caribbean island of St. Kitts, with 18 miles by narrow gauge train and 12 miles on sightseeing buses. Built between 1912 and 1926 to transport sugar cane from the island's sugar plantations to the sugar factory in the capital city of Basseterre, today the "Last Railway in the West Indies" provides visitors an unsurpassed opportunity to experience the scenery and culture of this unspoiled country.
St Kitts Scenic Railway Tour - St Kitts Activities
Type: Eco-Tours & Adventures
GENERAL RESTRICTIONS
Review Activity Rate Activity Bookmark Activity REQUEST AVAILABILITY/BOOK ACTIVITY
Disclaimer: Information about specific listings is provided by third parties and is subject to change at any time.