Previous
Review Activity Rate Activity Bookmark Activity REQUEST AVAILABILITY/BOOK ACTIVITY
Photos: Click on photo(s) to enlarge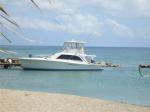 DESCRIPTION
VIP Charters is a full service charter company that specializes in adventure travel. We provide both, recreational and business travelers with the professional service and consultation that they need.
VIP Charters - St Kitts Activities
Type: Fishing-Deep Sea & Bone
GENERAL RESTRICTIONS
Review Activity Rate Activity Bookmark Activity REQUEST AVAILABILITY/BOOK ACTIVITY
Disclaimer: Information about specific listings is provided by third parties and is subject to change at any time.