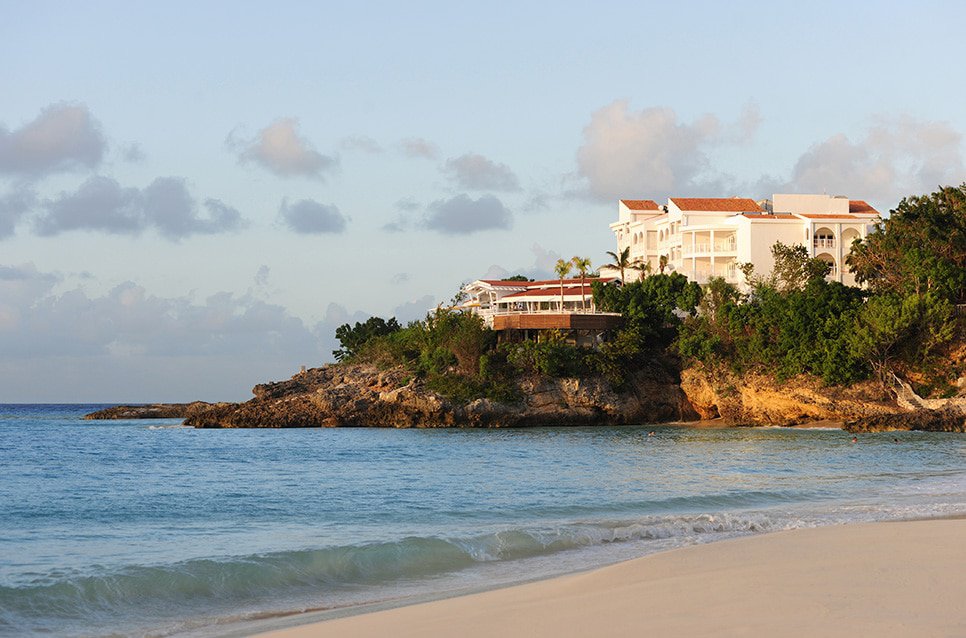 Description:
A member of The Leading Small Hotels of the World, Malliouhana Hotel and Spa offers 34 double rooms, many with entrance lobbies, and seven one-bedroom, two two-bedroom, six junior and three Jacuzzi suites, all with large lounges and outdoor terraces. All rooms and suites are spacious with large bedrooms, marble baths and covered patios. A 5,000-sq-ft pool suite includes a whirlpool bath, a private 35-ft free form swimming pool with sun decks, and private access to the beach. Home to the Caribbean's largest wine cellar, the resort offers gourmet and casual fare at its two restaurants and bar.

Accommodations
34 Double Rooms
Between 760-880 ft, are located in the Main House and on the upper floors of the villas that are situated on the beach, in the gardens and on the bluff. All have a large bedroom with doors leading to a covered patio, a fully marbled bathroom and most also have an entrance lobby.

7 One-Bedroom Suites
Over 1,800 ft, including outside terrace(s), located in the garden, ocean view and beachfront villas. They each have large lounge with 42" flatscreen cable TV/DVD and bedroom with marbled bathroom, covered patio and outdoor terrace.

2 Two-Bedroom Suites
Around 2,500 ft, located in the Terrace on the bluff overlooking Turtle Cove beach with small lounge between 2 large bedrooms each with marbled bathroom, covered patio and outdoor terrace.

6 Junior Suites
1,700 ft, located in the Terrace which is on the bluff overlooking Turtle Cove beach. Comprise large lobby, bedroom, marbled bathroom, patio and outdoor terrace.

2 Jacuzzi Suites
From 1,900 ft, both overlooking Turtle Cove beach and the Caribbean sea. Extra large junior suite with a lobby, bedroom, marbled bathroom, covered patio, outdoor terrace and private outdoor Jacuzzi.

1 Honeymoon Suite
Over 2,000 ft with extra large master bedroom, large lobby, oversized marbled bathroom, covered patio, outdoor terrace and private Jacuzzi

Pool Suite
More than 5,000 ft comprising master bedroom, 300 ft 2 bathroom with whirlpool bath, lounge with 40" flatscreen Cable TV/DVD , separate study or junior bedroom with Cable TV/DVD, shower room, dressing rooms, outdoor covered terraces, a private 6 ft deep pool and sunning decks. Private access to Turtle Cove beach

Dining
Belgium-born Fred Cougnon is behind the gastronomic delights created and prepared in the Malliouhana kitchen. Together with his staff of 26, Chef Cougnon has taken the art of fine French cuisine to new heights with subtle touches of Caribbean flavors.

Chef Cougnon oversees all daily aspects of the restaurant's kitchen and works in synergy with Maitre D' Chesney Hughes.

2011 Conde Nast Traveller voted Malliouhana Hotel and Spa as one of the top 3 restaurants in the Americas and the Caribbean.

Activities
Seclusion. Inclusion. Guests can hide themselves away. Guests can join in. At Malliouhana our guests can lead the luxury life they like.

For the passive, we have many private places. For the active, we have places to play, sail, swim and workout. We adjust ourselves to each guest's personal pace.

And with 25 acres of lush, landscaped gardens and one and a half miles of white sand beaches, we have room to make couples and families welcome. Everyone has their own space.

Spa
Malliouhana Spa combines the best qualities of a spa resort and a destination spa. In other words, it strikes a balance between the easy-going ambiance of a "vacation" spa and the rigorous regime of a health spa.

Weddings
An Indian tent in the secluded garden overlooking Turtle Cove-A luxury tent on the beach at Meads Bay".

Choosing the most romantic setting for your ceremony may be as difficult as choosing the menu from our award winning cuisine. We can arrange a discreet ceremony for the Bride and Groom or a lavish celebration for 100 guests.

Getting There
Malliouhana Hotel and Spa is situated at the west end of Anguilla, seven miles or 15 minutes drive from Wallblake Airport. The hotel is perched atop a panoramic bluff overlooking the azure blue waters of the Caribbean sea and reaching down to the fine, white sands of Meads Bay and Turtle Cove beaches.

Located in the Eastern Caribbean, the most northerly of the Leeward Islands in the British West Indies, Anguilla is approximately 14 miles long by two and one half miles wide (35 square miles).

Awards
In August 2007, we were chosen as the #4 resort in the Caribbean as voted by the readers of Travel and Leisure Magazine as well as one of the Top 100 Resorts in the world (#69).

January 2011, Conde Nast Traveller Gold List, named Malliouhana Hotel and Spa one of three Best Hotels for Food in the Americas and Caribbean.
Property Information:
Beach: Yes
Pool: No
Golf Course: Yes
Casino: No
All Inclusive: No
Family Friendly: No
Internet Access: Yes

Hotel Type: Hotel and Resort
Price Range Per Night: $201 - 324
Contact Information:
Address: PO Box 173, Meads Bay, Anguilla, BWI A12640
Country: Anguilla
Phone 1: (264) 497-6111
Phone 2:
Toll Free: 877-733-3611