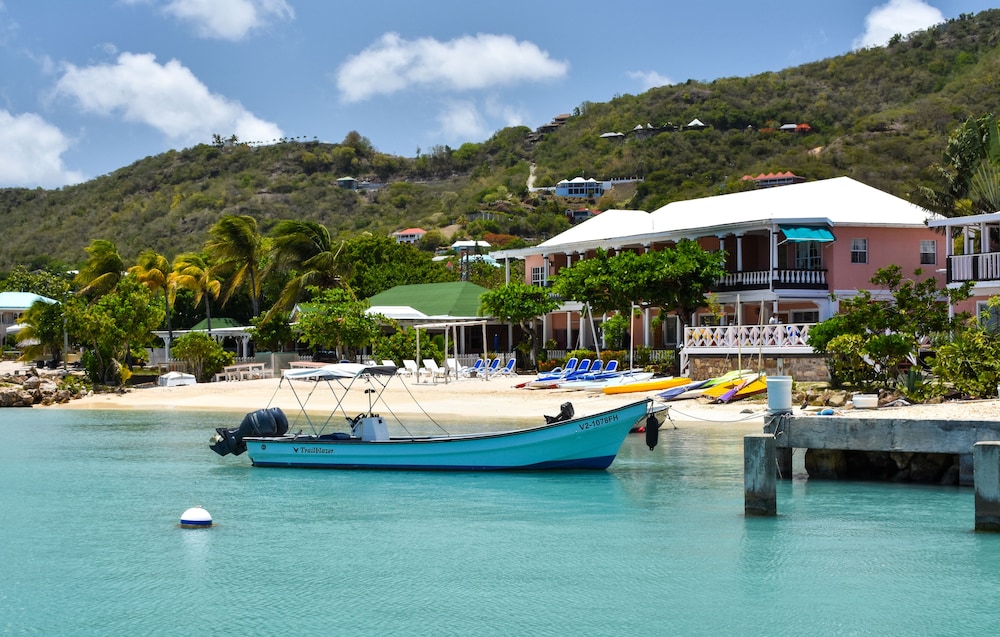 Description:
We won't tell you that Antigua's Catamaran Hotel is romantic. When, at night, the always-starry sky and the reflecting water hits the perfect shade of indigo; and the lapping of the surf, as yachts loll languidly on its surface, call to your senses, you'll come to that conclusion on your own.

We won't tell you the Catamaran Hotel is tranquil. You'll decide that independently; as you wend your way further and further away from the city along Antigua's curving country roads to the southeast port town, Falmouth, we've called home since 1968.

We won't tell you the Catamaran Hotel is intimate. The friendly smiles and accommodating presence of our staff, the personal and individual yet non-intrusive quality of our service, will soon have you singing that tune without prompting.

Magical, hospitable, and relaxing are words that have been used by our guests to describe the Catamaran Hotel experience. Another declared it a true taste of island life, and we have to agree; if we do say so ourselves. Soon, you will too.

We are the ultimate Antiguan small hotel, a very intimate place that treats you like the VIP you are.

One of the choicest perks of staying with us, of course, is the easy access to Antigua's best asset, one of her prized beaches. At Catamaran Hotel, we've brought it almost to your patio door. So, step out, and let the warm, golden sand; and calm, turquoise waters of the Caribbean Sea thaw your body even as they re-invigorate your spirit. Relax in the shade of one of our lush beachfront trees, enjoying the unparalleled privacy offered by our secluded beach; or step up to our nearby wooden patio deck for a dip in the pool.

Adding to our appeal is the Catamaran Hotel's prime location; mere minutes from the homes of the famed Antigua Sailing Week, the Antigua and Barbuda Sports Fishing Tournament, the Antigua Classic Yacht Regatta, and the Antigua Charter Yacht Meeting.

Our little bit of paradise comes with all the comforts of home; roominess, comfort, and all your self-catering needs at an affordable price.

Of course, the perfect vacation isn't only about comfort, but also indulgence. We recognize that; in fact, we celebrate it. That's why at Catamaran Hotel, we've gone to such lengths to provide a peaceful getaway in an idyllic location - perfect for your wedding, honeymoon, second honeymoon, or romantic retreat. It is, undoubtedly, the perfect escape.

About
The picturesque Catamaran Hotel is a bit of Falmouth and Antiguan history. Dating back to 1968, it is owned and managed by one of the country's premier yachting families. Hugh Bailey, who ran the hotel in its earlier years, with wife Janet, is a revered son of the soil, and, paradoxically, an accomplished seaman. He first set sail at 19, one of the youngest charter yacht captains in the area; and would become one of the co-founders of and lifetime participant in Antigua Sailing Week. Janet Bailey, meanwhile, brought to the family business her hospitality know-how, having done a stint in catering and hotel management at Brown University, Rhode Island.

She is remembered as a marvelous cook and amicable host; as well as extremely hands-on, supervising every phase of the hotel operation. Current manager, daughter Feona, grew up on the property and still resides there. The love she feels for home is reflected in the amount of time, energy, and money she continues to invest in maintaining the Catamaran Hotel's excellent standards. She is passionate about Antigua and her customers, the two great loves of her life. Her energy and enthusiasm are infectious - you will rarely catch Feona without her engaging smile. She has, meanwhile, infected her team with this fervor and friendliness. We challenge you to find another hotel team with that unwavering combination.
Property Information:
Beach: Yes
Pool: No
Golf Course: No
Casino: No
All Inclusive: No
Family Friendly: Yes
Internet Access: Yes

Hotel Type: Hotel and Resort
Price Range Per Night: $125 - 200