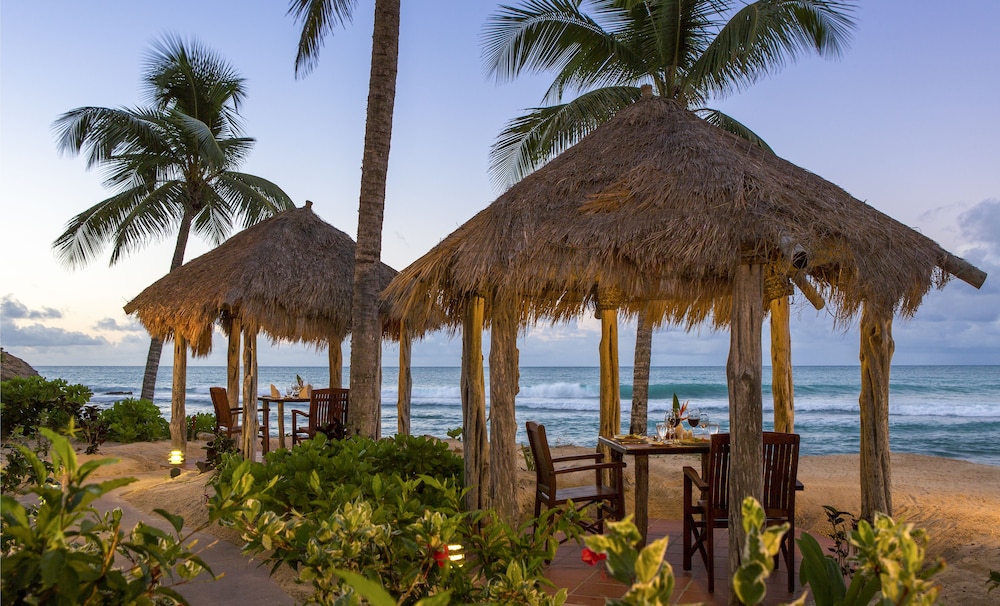 Description:
Galley Bay, an intimate, Caribbean hideaway, delights guests with its refined, unpretentious atmosphere and its relaxing, all-inclusive pricing. It's glimmering turquoise seascapes and lush gardens create a relaxing, natural setting for those who want to decompress and escape from the world. The focal point is our three-quarter-mile white sand beach on the clear, warm Caribbean, where you can recline in the shade of a palm tree, soak up the sun or enjoy a refreshing swim and complimentary non-motorized water-sports.

The boutique property's 98 guest rooms are set amid 40 acres of beautiful tropical gardens, providing a sense of privacy. Most accommodations are tucked into the landscape along the beach, so your next swim is just a few steps across the sand. Our distinctive Gauguin cottages, hidden amid the gardens, offer lagoon views and concealed individual plunge pools for private dips. No wonder Galley Bay was named in the "Top 100 resorts of the World" and among the "Top 10 Best Resorts for Romance in the Caribbean" by the readers of TripAdvisor.com.

With three romantic open-air restaurants and three welcoming lounges, you'll never need to leave the property to enjoy three delicious meals each day, along with afternoon tea, evening hors d'oeuvres, by-the-glass wines and top-shelf beverages. Live entertainment, cocktail parties and Caribbean barbecues punctuate evenings at Galley Bay. By day, you can take advantage of a full array of complimentary water-sports equipment and instruction, lounge by the swimming pool or beach, or get active on the jogging trails or tennis courts.

Accommodations
Premium Beachfront Suites
The first thing you'll notice about your Premium Beachfront Suite is the fabulous beachfront location. Then you'll quickly realize that our suite accommodations offer all the comforts and amenities you'd expect of an award-winning resort. We're especially proud of our 32 new Premium Suites, which offer a stylish departure in d?cor ''from'' our original Caribbean-style rooms. These suites have a luxurious feel, with gleaming granite, tropical photographs and dark acacia wood furnishings that are both understated and refined. Step down into the sunken living room and open the sliding, floor-to-ceiling doors, then perch on a stylish sofa to enjoy the sea breeze and stellar views. You'll also notice the opulent feel of 400-thread-count sheets and the cozy throws that grace our new king beds.

We know that many of our longstanding guests at Galley find our guestrooms mercifully free of technology, and we will continue to make those total-escape rooms available. On the other hand, for those of you who can't bear to part with your Blackberry and 24/7 access to the rest of the world, we've installed wireless Internet access as well as 32-inch, flat-screen, wall-mounted TVs, iPod alarm clocks and DVD players. You can opt for naturally air-cooled bliss with ceiling fans and sea breezes, or set the individually controlled air conditioning - it's up to you. The graciously appointed, spacious bathrooms are equipped with his-and-hers showers, a deep, corner-installed soaking tub for two, double sinks, a magnifying mirror for makeup and shaving, fluffy white towels and luxurious Gilchrist and Soames toiletries. Step outside onto your balcony or patio and you'll find a pair of comfy, all-weather rattan chaises to settle into, as well as a beach shower.

Cottages
Our Gauguin cottages reflect the artist's lifestyle in Tahiti, with privacy that represents a departure ''from'' many of the constraints of civilization, along with the comfort you'd expect of a stay at Galley Bay. Settle in close to our peaceful lagoon, a sanctuary for beautiful native birds and wildlife, and enjoy the solitude amid the deep greenery that surrounds the cottages. As you approach, you'll see the peaked, thatched roofs poking above the foliage and a few hints of the thick, round walls of each unit - twin "rondoval" cottages joined by a sheltered breezeway. They're especially popular with newlyweds who wish to unplug ''from'' the world for awhile. In the bedroom, cool, whitewashed walls, woven bamboo ceilings, louvered windows and terra-cotta tile create a rustic, Tahitian ambiance, with bold splashes of bright color that echo Gauguin's absorbing natural palette, and the deep cool provided by individually controlled air conditioning units.

Across the breezeway is a bath equipped with a shower and dressing area, with louvered windows providing fresh breezes and the refreshing sensation of a beach shower to complete the feeling of being immersed in nature. You can brew your morning coffee in your room, then step outside and relax on your concealed patio, with its adjoining private plunge pool the perfect spot for a romantic dip.

Beachfronts
These traditional single level rooms are located directly on the beach and feature vaulted ceilings, private terraces and ensuite bathrooms with showers only. A few seconds is all it takes to get ''from'' bed to sea, whilst rattan furnishings, louvered windows and colorful local art create a mood that is quintessentially Caribbean.

Dining
Part of the joy of staying at Galley Bay is dining at our two alfresco restaurants. Farm-fresh offerings are prepared with care under the direction of award-winning Executive Chef Andrew "Stan" Baxter, who carefully melds Caribbean with Continental into wonderfully original dishes. On the menu, you'll recognize his distinctive touch in dishes like the Blue Mountain Coffee-dusted beef tenderloin, served with a spiced mango B?arnaise, accompanied by sweet potato mille-feuille, or the cornmeal-crusted yellowfin tuna and cherry tomato confit, served with a basil aioli.

Lounges and Bars
Enjoy a cooling break 'from' the sun by day or a satisfying nightcap at any one of Galley Bay's three open-air lounges. All three serve a wonderful selection of cooling Caribbean cocktails, top-shelf liquor and wines by the glass, along with nonalcoholic beverages.

Spa
For the utmost in relaxation and pampering, we invite guests to explore Indulge, our beautiful new spa, which made its debut in January 2008. Indulge is inspired by the distinctive look of our Gauguin cottages, and is centrally located, adjacent to the calming waters of our lagoon and surrounding bird sanctuary. The spacious, multi-level hideaway features three massage areas, two of which are rustic, open-air treatment "pods". The pods are rough-hewn, airy massage decks draped with sheer, white curtains for privacy, and both overlook the bird sanctuary and lagoon. The second, shaded treatment pod is designed to accommodate two massage tables, for romantic his-and-hers treatments, in keeping with Galley Bay's emphasis on couples.

Weddings
Caressing the edge of a stunning ? mile white-sand beach, Galley Bay is the ultimate romantic escape and the perfect choice for one-of-a-kind weddings that are limited only by your imagination. Reflecting an ambience of island-style luxury, such as its lovely, rustic beachfront gazebo and spectacular beach and garden settings ensure both a ceremony and a honeymoon to remember forever?

Honeymoons
The lush beauty of tropical vegetation, a white sand beach lapped by the brilliant Caribbean Sea and an all-inclusive plan that provides for all the basics - including romantic dinners, snorkeling adventures and lovely accommodations - make Galley Bay a naturally romantic spot for a honeymoon.