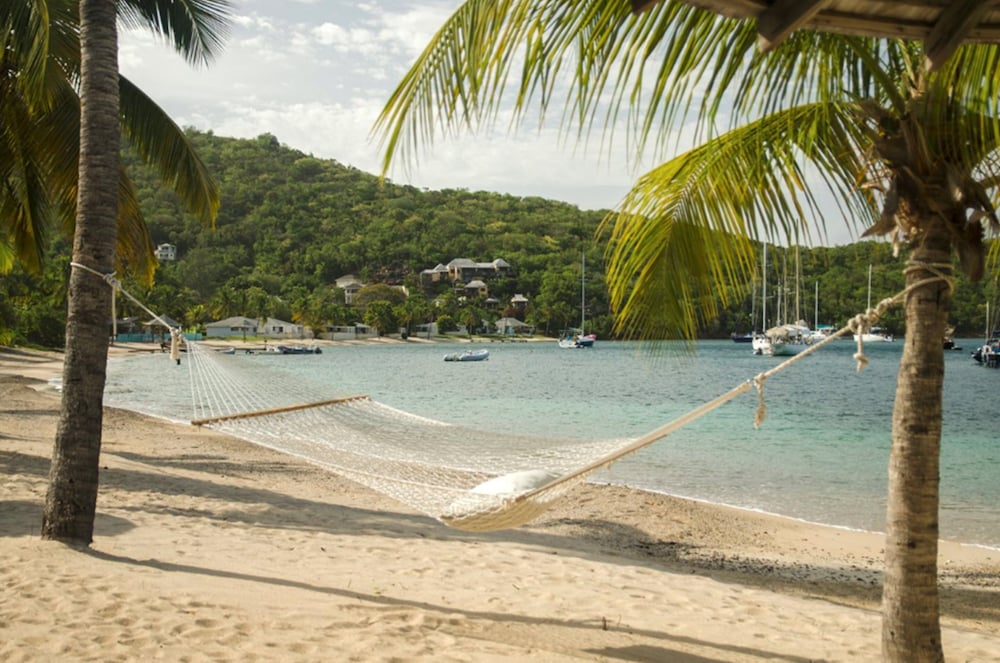 Description:
One of the Caribbean's luxury hotels and exclusive Antigua boutique hotels in a beach side five star location in English Harbour, offering luxury accommodation for the discerning traveler seeking privacy and seclusion in a contemporary setting. This luxury Antiguan hotel offers unparalleled service, style and stunning location. Perfect for people who love the extraordinary. Welcome to the Inn at English Harbour, Antigua.

Welcome
Elegant and exclusive, The Inn blends into the perfect balance of a Colonial style building with luxurious and contemporary comfort.

Only 28 rooms built on 19 acres of green land inducing a sense of privacy and seclusion... simply enjoy, on our white sand beach, undisturbed, the cooling trade winds of English Harbour.

All the rooms have been recently upgraded and well appointed with private veranda or terrace, ceiling fan, A/C, wall safe, cable TV, iPod station, mini-bar, hairdryer, direct-dial telephone and internet access.

About
The Hotel has its own white sandy beach, with a small but lovely private dock. Clear emerald blue waters are encompassed by the magnificently lush green landscape of the surrounding hills. This semi-enclosure induces a feeling of privacy and seclusion. Just yards from the beach is a large fresh water Infinity pool with complimentary sun beds and umbrellas. Just lay back and enjoy the suns warmth cooled by the prevailing Trade Winds.

A white sandy beach stretches all around the bay. From the entrance, a very short and pleasant walk through the encircling grounds brings you to 24 luxury beach front Suites set on two storey buildings, furnished with understated elegance, each with an undisturbed view of the Ocean and Beach. These beautiful Suites boast King, Queen or Twin size beds.

They have large modern bathrooms, twin wash basins and open up onto a huge veranda or terrace. Two beach front cottages, a total of 4 rooms, located right on the beach with an open view of the entrance to the historical Nelsons Dockyard, complete the 28 rooms/suites complex. All the rooms/suites are equipped with ceiling fans, wall safe, coffee and tea makers, mini-bar, hair dryer, direct dial phone, cable TV and internet access.Offers non-motorized water sports, windsurfing, kayaks, snorkeling equipment and free daytime water taxi to Nelsons Dockyard, two lighted grasstex tennis courts and a fitness center with cardiovascular equipment and free weights, weekly live entertainment and a library lounge with board games, chess, fine books, concierge, free parking, high-speed internet access complimentary, pool, restaurant, room service and Spa service.

Accommodations
The Inn is a most comfortable Hotel in keeping with the surrounding historical buildings.

A pleasant stroll down through the hillside gardens takes the visitors to the main part of the hotel, which surrounds the infinity edged swimming pool. Here a recently constructed central building and two lateral units offer 24 superb new Suites set on two floors. Also a pair of cabanas, each with 2 Beachfront rooms, sit on the sand giving a magnificent view over the entire harbour.

All the rooms in the hotel offer private veranda or terrace, ceiling fan, a/c, wall safe, cable TV, mini-bar, hairdryer, direct-dial phone, flat screen TV, iPod station and internet access.

Dining
The superb location, the first class cuisine and the comprehensive wine-cellar, supported by friendly and discreet service, has ensured The Inn has one of the finest location for fine dining in Antigua.

Spa
The Inn spa will re-energize your soul and body in an elegant and serene environment, with a sense of minimalism of Asian and Caribbean influence.

Before and after treatments, sip from a selection of relaxing teas, available for our guests whom can relax in the adjacent spa library or out on our chess deck.

Coaxed from leaves, roots, tree bark, even flower petals, and combined in different ways our essential oils are used for aromatherapy, beauty and pampering.

The aesthetics and experience of our Masseuse allows for a full range of massages, body, and facial treatments, as well as a full-service salon equipped for manicures, pedicures, hair care, and make-up.

A natural extension of our attentiveness is the adjoining fully equipped workout Gym.

The layout and the feel are impeccably woven together to create an overall impression of a simple elegance that transitions you from one area to the next providing you with that sensory experience.

Weddings
The Inn at English Harbour on Antigua's spectacular South Coast provides the perfect wedding location. Beautiful gardens, an open terrace with stunning views over English Harbour and the distant island of Montserrat, a superb, white sandy beach enclosed within Freeman's Bay and an excellent level of friendly, smiling service make The Inn one of the best places in the Caribbean for weddings.

Getting There
The Inn is ideally located on the captivating island of Antigua - one of the many islands dotting the Caribbean Sea. The premises nestle between the gently undulating slopes of the English Harbour coastline, which extends along the south western coastal tip of Antigua.

The Inn is perfectly positioned on a beautiful wooded headland, which stands guard to the entrance of historic English Harbour. English Harbour, one of the most delightful and picturesque parts of Antigua, is packed with historic legend, and true natural beauty. Marked by the passage of Admiral Lord Horatio Nelson, English Harbour provides an alluring blend of history and charm, relaxed and natural atmosphere, in one of the most unique locations in the West Indies.

Antigua, "the Heart of the Caribbean", so called because of its geographic location, offers direct airline service from major North American and European cities, as well as flights to and from most Caribbean Islands. By car, the hotel is approximately 18 Km from St. John's and 20 Km from the international airport.