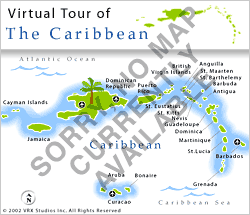 Caribbean Information Centre
Caribbean.com is a travel site specializing in The Bahamas, Bermuda and the Caribbean region. Our destination guides contain thousands of listings and virtual reality map tours to help you plan your perfect vacation. Listings include hotels, restaurants, activities, attractions, diving, snorkelling and shopping for 50+ destinations.
Montserrat feature
CARIBBEAN.COM 2004 - COURTESY DUPUCH PUBLICATIONS
All about Montserrat
Sometimes a disaster has a Zen-like way of turning into a triumph. The horrendous volcanic explosion that destroyed the northern part of Montserrat is a fiery example. Instead of closing up the tourist shop, the Irish-Caribbean plucky people of Montserrat turned the destruction into a destination attraction! That is to say, the rugged terrain covered in volcanic dust is considered an enhancement to the environment, visually speaking. The volcano damage can be viewed from a safe range - and where else in the Caribbean do you have such a photo and learning opportunity?
Aside from the volcano "exclusion area," Montserrat remains the Emerald Isle of Eden developed long ago by the first European settlers who happened to be Irish. To this day, St Patrick's Day is huge on the Montserrat calendar of events. The entire island goes in for the wearin' o' the green, as well as the shamrock symbol of "The Old Country." Rest assured that there is plenty of "Irish Turkey" - Corned Beef and Cabbage - to go around. As a special non-Irish touch, there is also the throbbing beat of steel drums as well as Calypso and soca to spare. St Patrick's Day is doubly celebrated. After all, it was the day chosen for a slave revolt and march on Government House. That action helped pave the way to emancipation long before the US got around to freeing its slaves.
True to its Emerald Isle nickname, the lushness of this 38-square-mile, pear-shaped island evokes Ireland, only with a much milder and sunnier climate. Once again, the volcanoes provide a plus. That is to say, Montserrat's soil is made super-fertile from volcanic ash tossed over the fields and meadows of fair Killarney overseas. You will see no end of tropical greenery and "bloomery" in this Irish-flavoured isle of smiles. For some time, Walker's Cay in The Bahamas had an exchange programme designed to teach Montserrat Irish the ins and outs of Irish-American-Caribbean tourism at its best.
Montserrat is slowly but surely recuperating from the eruption of the Soufriere Hills volcano. Don't think the Caribbean's one and only Emerald Isle is out of business because it isn't. There is a freshness, a newness, to the mushrooming bungalows, villas and hostelries available to tourists. In 2004, a new 18-room hotel featured a honeymoon suite complete with mini-bar - no need to leave the privacy of your honeymoon boudoir for an outside watering hole.
Many expatriates are building vacation and second homes in the flower-clad hills and valleys of Montserrat. This has added a new nickname for the Emerald Isle, this time it's "The Island of Villas." Expat villas are prized for the healthful and refreshing spring water piped in from the bright green Irish-style woodlands of Montserrat.
A Montserrat culinary treat is a chicken relative and tastes like chicken, so it is called "mountain chicken." That sounds better than the real name: giant frog legs.
Sadly, Montserrat lost much of its population after the volcano exploded. In fact, the 1991 census of 10,639 dropped to 4,482 in 2000. As a United Kingdom Overseas Territory, Montserrat is favoured with aid from British taxpayers.
In early 2004, you could only get to Montserrat by helicopter or ferry from nearby Antigua. Until completion of a new airport, the oriole national bird does the bulk of flying around Ireland-in-the-Caribbean.