Next

Blue Mountain Bicycle Tours Limited (Visit this link)
Review Activity Rate Activity Bookmark Activity REQUEST AVAILABILITY/BOOK ACTIVITY
Photos: Click on photo(s) to enlarge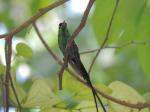 DESCRIPTION
Enjoy a leisure downhill bicycle ride through a lush tropical rain forest, in the Blue Mountain home to hundreds of species of bird and blossoming plant life. View the world's famous Blue Mountain coffee plantations. Conclude your tour with an exhilarating dip at a cool cascading waterfall. Tour concludes: Round Trip Transportation, brunch and lunch, guided tour, bicycle and equipment.
Blue Mountain Bicycle Tours Limited - Ocho Rios Activities
Type: Tours
GENERAL RESTRICTIONS
Review Activity Rate Activity Bookmark Activity REQUEST AVAILABILITY/BOOK ACTIVITY
Disclaimer: Information about specific listings is provided by third parties and is subject to change at any time.