Review Activity Rate Activity Bookmark Activity REQUEST AVAILABILITY/BOOK ACTIVITY
Photos: Click on photo(s) to enlarge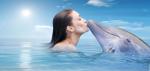 DESCRIPTION
This magnificent property has a natural cove which is surrounded by 5 acres of lush tropical rain forest. Visitors have the opportunity to interact and "Swim With" dolphins, enjoying the thrill and love of these amazing lovable animals. Visitors can also swim with, hold, feed and learn about the evolutionary secrets of the Caribbean sharks. Visitors can capture their dream of being a dolphin trainer by taking the challenge of being Sea Keeperfor the day.
Dolphin Cove is the place to spend the day enjoying lots of fun activities. There is something for everyone. Entrance includes and allows guests the following activities as often as they wish. Guests can captain their own mini-boats and explore the coast, interact and snorkel with stingrays, take a glass-bottom kayak ride to explore the fascinating underwater world, watch our hilarious Shark Show and interact with exotic birds, snakes and iguanas on the Jungle Trail walk.
Relax on our glistening white sandy beaches, enjoy the tropical surroundings, taste our famous Jamaican coffee at our Star Buccaneers coffee shop, browse for souvenirs or jewellery at our very own gift shops. See the Shark Show while the one-legged pirates roam freely along the boardwalk of Little Port Royal and perform a jig or two.
Dolphin Cove - Ocho Rios Activities
Type: Tours
GENERAL RESTRICTIONS
Review Activity Rate Activity Bookmark Activity REQUEST AVAILABILITY/BOOK ACTIVITY
Disclaimer: Information about specific listings is provided by third parties and is subject to change at any time.