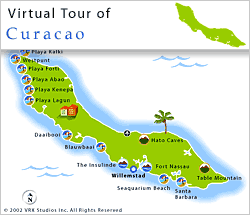 Caribbean Information Centre
Caribbean.com is a travel site specializing in The Bahamas, Bermuda and the Caribbean region. Our destination guides contain thousands of listings and virtual reality map tours to help you plan your perfect vacation. Listings include hotels, restaurants, activities, attractions, diving, snorkelling and shopping for 50+ destinations.
Curacao feature
CARIBBEAN.COM 2004 - COURTESY DUPUCH PUBLICATIONS
All about Curacao
With no hurricanes and considerable prosperity, Curacao stands out as one of the Caribbean's most desirable destinations. Take your pick of stories on how Curacao got its name. One story goes that the abundance of vitamin C-laden fruit kept some stranded European sailors alive and healthy - curacao supposedly being archaic Portuguese for cure. A more likely story goes that Spaniards called the island Curazon, for heart, and mapmakers changed the spelling to the Portuguese Curacao.
Sixteenth-century Spaniards found little gold and insufficient water to make staking a claim worthwhile. The Dutch West India Company subsequently laid claim in 1634. Then they established plantations and built fine homes called landhuisen. Some still exist today. The most Dutch of Curacao's architecture can be seen in the island's charming capital, Willemstad, administrative center for five of the six Netherlands Antilles jurisdictions. Built in the mid-1600s, Willemstad evokes the quaint architecture of Holland's chief city, Amsterdam. Fine examples of narrow gabled structures are replicas of those in Amsterdam, Holland. Wealthy Dutch merchants used to build narrow, multi-storey buildings as a tax benefit. At one time, Amsterdam real estate was taxed according to frontage. In any case, Willemstad's narrow buildings are even more charming than those in Holland. Why? It's because the Willemstad structures are painted in a wide range of pastel colours. Willemstad is so "Amsterdamish" that a swinging nightclub is named: Amsterdamned. But Amster-blessed is more like what has happened. As in Holland, you will find Curacao clean, neat, and possessed of an excellent infrastructure and a bustling economy that makes the island one of the Caribbean's wealthiest. Bridges named after Dutch royalty connect the two sections of the capital - Punda and Otrobanda.
It is ironic that the island failed to grow proper oranges, the Royal House of Orange being providers of a Head of State for the Netherlands Antilles. Curacao oranges proved to be so sour they ended up as the signature flavour in a liqueur called Curacao. Most people are more familiar with Curacao as the drink rather than one of the world's premier vacation resorts.
Curacao had an almost boring existence from its founding in 1634 until 1914, when oil was discovered 40 miles away in Venezuela. In 1915, Royal Dutch Shell Company began to build one of the world's largest oil refineries on the island. That brought Curacao a red-hot economy that continues its rapid expansion as you read. To seek full employment, the Dutch government launched a tourism programme in 1950. Since then, millions of visitors have fallen in love with Curacao and its wonderful beaches. The semi-arid climate makes the island a sun-worshipper's paradise. It rarely rains, but there is standing water in some saline ponds here and there. Most of the island's potable water comes from a huge desalinization plant on the south coast.
Some of the other unique things in Curacao are the local language, Papamiento (sometimes spelt Papiamentu), and the wind-shaped divi-divi trees. Papamiento is a curious mixture of several unrelated languages. People of the former Dutch colonial islands are brilliant linguists. Dutch speakers find it easy to switch over to English, since Dutch and English share Teutonic roots.
Curacao rocks into the wee hours at some 10 casinos, located mainly in the larger hotels. Unique to Curacao is tambu, an ancient African form of dance and music. There is also a musical form called zumbi, which refers to the walking dead known as zombies. Curacao, called Kursow by Papamiento speakers, has a strong tradition of African culture that blends well with that from the faraway land of windmills and dykes.