St. Thomas, US Virgin Islands - Experience the ultimate vacation and honeymoon destination at Pavilions and Pools Villa Hotel on the beautiful Caribbean island of St. Thomas in America's paradise, the US Virgin Islands. This intimate, affordable all-villa hotel is known for its romantic setting, privacy, and tranquility, and features a private swimming pool for each villa. Located on the East End of St. Thomas, each of the resort's 25 villas and 25 pools are set within private tropical gardens.
US Virgin Islands' resort named one of the best large hotels in the Caribbean. Located on a quiet stretch of beach on St. Croix in the US Virgin Islands, the resort combines privacy and relaxation with modern style and amenities. Spacious beachfront guestrooms and deluxe hillside suites offer private balconies with stunning views. Romantic candlelit dining, and casual poolside treats complement deluxe amenities and superior island hospitality. This AAA 3-star rated resort offers plenty of diversion, including its own casino and on-site PADI five star dive operation and activities center.
Here is a touch of Denmark-in-the-tropics with all the modern conveniences of living in the U.S.A. The three principal islands are St Thomas; St John, with world-famous Cinnamon Bay National Park and Trunk Bay underwater snorkel trail; and St Croix, the largest, where Columbus anchored his ships and went ashore in 1493. Sight-seeing in these historic islands is a major tourism plus. Cuisine, culture, sports and night life complete the menu for the perfect U.S. Virgin Island vacation of a lifetime.
The islands of USVI - Maps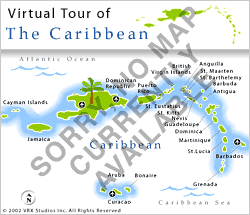 Caribbean Information Centre
Caribbean.com is a travel site specializing in The Bahamas, Bermuda and the Caribbean region. Our destination guides contain thousands of listings and virtual reality map tours to help you plan your perfect vacation. Listings include hotels, restaurants, activities, attractions, diving, snorkelling and shopping for 50+ destinations.
More information about USVI
All about USVI - "Don't Stop the Carnival", is said to be about part of USVI