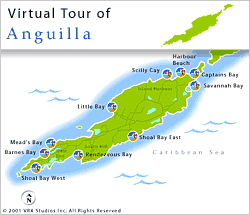 Caribbean Information Centre
Caribbean.com is a travel site specializing in The Bahamas, Bermuda and the Caribbean region. Our destination guides contain thousands of listings and virtual reality map tours to help you plan your perfect vacation. Listings include hotels, restaurants, activities, attractions, diving, snorkelling and shopping for 50+ destinations.
Anguilla feature
CARIBBEAN.COM 2004 - COURTESY DUPUCH PUBLICATIONS

All about Anguilla
Sometimes a resort is known for what it doesn't have - such as casinos, jazzy nightclub action, duty-free shopping plazas, nudist-friendly beaches, cheap junk food and the like. Such is the case on the eel-shaped island of Anguilla where serenity, divine dining, multi-starred hotels and body-pampering spas - plus some 33 beaches - are the main tourist draws. Forget that other stuff.
Unlike many Caribbean hot spots, there hasn't been a decent Anguillan war since the hilarious 1969 debacle known as the British Bay of Piglets. In 1967, Anguillans were inclined to decline from being the Associated State of St Kitts-Nevis-Anguilla. The St Kitts police force was exiled back to St Kitts. For two years, Anguillans did their own thing, government-wise. In 1969, British colonial higher-ups all of a sudden discovered they had a bunch of republic-minded revolutionaries to be put straight. Subsequently, one sunny day, the skies over Anguilla rained Her Majesty's Royal Paratroopers looking to silence the mouse that meowed too aggressively at the British lion. Not a shot was fired and the top military goal became the shutting up of alleged republicans singing "God Save The Queen" at the top of their voices. In the end, the upstart Republic of Anguilla settled in as a "dependent territory" of Great Britain. The war wound down after British Bobbies - London Metropolitan Police - filled the gap left by the long-gone St Kitts cops. The entire incident was written up in Donald Westlake's book: Under An English Heaven.
Anguilla - Mallionhana is its aboriginal name - is patronized mostly by the rich and famous. Glitterati by the planeloads book posh beachfront resorts that are the dernier cri in class, comfort, chic and acceptable decadence. Don't be put off by billy goats that may graze alongside your ultra-luxurious beachfront digs with stunning views. And don't miss out on the beach-grilled fresh lobster for which Anguilla is renowned worldwide.
Architecture is another Anguillan plus, and represents a myriad of styles and cultures. Maundy Bay is wrapped in Moorish-type villas where your welcome drink is apt to be an island herbal magical medical cure called "bush tea." Other encounters of the architectural kind include resorts done up in Spanish Mediterranean fashion, rainbow-hued Caribbean clapboard houses, Greek-island structures in glistening white and cobalt blue and wrap-around verandahs on West Indian-styled bungalows.
Most of the above are fairly recent imported cultures. However, old traditional ways are everywhere prevalent. Anguillans, for centuries, have made their living as fishermen and boat-builders. Their boats, painted in pastel and candy colours, often went far out into the Atlantic. Anguillan boats are as seaworthy as they are pretty. Christopher Columbus "discovered" the island in 1493. The French sailed by 1556; the English made the island a colony in 1650 and so Anguilla remains today.
About the only bad things are the Manchiniel trees. Sit under one after a rain and it could drip blister-forming toxic latex on your previously healthy skin. And another thing - as befits a proper English place, no skinny dipping, for heaven's sake! For un-English, clothing-optional beach escapades, take the 30-minute ferry ride from Blowing Point Harbour to French and saucy, nude beach-friendly St Martin.
But why on earth would you want to leave behind Anguilla's world-class diving, sailing, yachting, windsurfing, health spa and fishing opportunities in the blue-green, gin-clear seas of an island media types have christened as: Tranquillity Wrapped In Blue.